Meet the man who founded the Tallahassee Celtic Festival
Personal Biography – Tek Marciniak
"WHAT A GRAND PLACE FOR A WEE FESTIVAL" (How the Tallahassee Celtic Festival and Scottish Highland Games began.)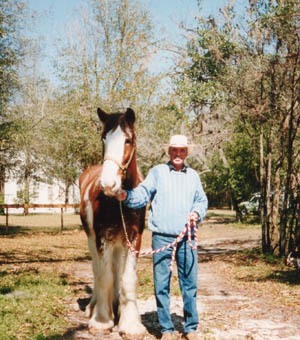 Tek with his Clysdale, "Bubba."
"THOUSANDS ATTEND SCOTTISH FESTIVAL AT TRELAWN" blared the headlines of the Monticello News on Oct 14, '96. Only 5 months earlier the idea for the event was hatched on the front porch of Trelawn Plantation, in Jefferson County. Alex Pringle, a former Scottish and Tampa Bay Rowdies footballer; Peter Robertson, an Irish singer from Boston; and Tek Marciniak, an expatriated Scotsman and owner of Trelawn, were enjoying a beer on a beautiful April afternoon. Peter was in Florida for a show in Tampa and the talk turned to things Celtic. They were talking about the Dunedin Highland Games and their impact on the Celtic community in that area. Looking out over the front lawn with its huge live oaks, magnolias and azaleas in bloom, Peter quite casually remarked "what a grand place for a wee festival."
Born and raised in Blairgowrie & Rattray, a town of 4,000 folks just a few miles northeast of Perth, Tek was a descendant of families from northern Perthshire: from Kirkmichael, The Moulin, Glen Isla, Glen Shee and Blairgowrie & Rattray; Scotts, Ramseys, MacDougals, Butcharts and Beedies.
Tek's father, Kaz Marciniak, was with the Polish Tank Corps which arrived in the area in 1939. He eventually married Janet Beedie. Tek's granny, Elizabeth Beedie (the daughter of James Butchart, killed while serving with The Black Watch during the Boer War) married David "Bunt" Beedie. Bunt was a horseman. With his own Clydesdale he delivered packages for the Railway and ploughed and hauled timber. It was as a three and four year old, riding on the Clydesdale's back while his grandfather worked, that Tek developed his love for horses. The Beedies were, and still are, a large, closely knit family with unwavering loyalty to their name and to Scotland. Growing up in that environment left Tek with a deep love for his family ties and his Scottish heritage.
As a youngster raised in rural post-war Scotland, Tek, like the majority of his peers, started to work at an early age. At eight it was time for a bairn to go out and "make a shilling or two." Picking raspberries and strawberries in the summer and potatoes in the autumn were the bane of a child's existence. Supplementary income came from delivering groceries, newspapers and even collecting rags. In later years Tek worked as the Assistant Burough Surveyor in Blairgowrie then after attending the Scottish National Police Academy, became a police officer with the Dundee City Police. Wages of eight pounds a week, left Tek thinking that there may be something better over the horizon.
In 1967 Tek left his native home and, like so many Scotsmen before him, "crossed the pond." He spent three years as a United States Marine, serving a year in Vietnam. On leaving the Marine Corps as a Sergeant, he joined Tampa Police Dept., where he worked as a street cop, and later, a homicide investigator. From there he started a Private Detective Agency which became one of the largest in the South-East and still bears his name.
During this period, his horsemanship led him to play polo and foxhunt. Bringing together the disciplines of police work and horsemanship resulted in him becoming one of a hand-full of Nationally Certified Mounted Police Instructors in the US. He now owns the Mounted Police Academy in Ocala, Florida, where police officers from the across the US and abroad come to train. Tek graduated from The University of South Florida with a degree in Archeology. His other accomplishments include a US Coast Guard Master's Licence, a Private Pilot's License and SCUA Diving Certification.
"What a grand place for a wee festival" Peter had said. For all his travels; the jungles of Vietnam, the Peruvian Andies, the Mexican Yucatan, and the waters of the Gulf of Mexico, Tek had always carried proudly his Scottish heritage. The words of "My Ain Folk," "A Scottish Soldier," "My Grannie's Heiland Hame," aye and even the "Berry Fields O' Blair" have been heard over all these exotic locales! Sometimes precipitated by a "dram" and always accompanied by a tear. "What a grand place for a wee festival." That was all it took. Always aware of the Scottish influence in places he had traveled to, Tek was acutely aware of the deep Scottish roots of the Tallahassee area. What better a place to support their own Festival. So then it was off and running. The "wee festival" initially planned with Peter and maybe a couple more acts blossomed into what we have today. Within a few weeks the event had expanded to include internationally-known entertainers. Tek had the idea to bring in a demonstration of the old Highland sports. After contacting Kay Cummings, what resulted was a full-fledged, nationally sanctioned and rated Highland Games. But how do you have a Celtic Festival without the prerequisite Sponsors' Reception before the event and a Ceilidh after? Soon these were in place and as the word spread, the demand for vendor's spots at the festival was huge. The rest as they say, is history.
The following year, the Games were expanded to two days. But the work hosting the event became too much and Tek was proud, and relieved, to hand over the festival to the competent hands of Joyce Oakley. The Festival was reorganized as a "not-for-profit" organization and brought to Tallahassee where it continues to thrive and is now recognized as one of the preeminent Celtic Festivals and Scottish Highland Games in the Country.